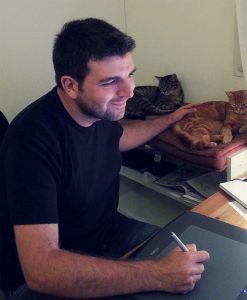 David 
Revoy
David Revoy (Deevad) is a 40 years old French artist who lives in the South of France. His works encompass several areas such as illustration, comics, art direction, conceptual art, storytelling and teaching, but a main feature of his carreer was to pioneer using only Free/Libre and Open-Source Software on Gnu/Linux system back in 2009. He has then contributed to a lot to Open Sources Project: Blender, Mypaint and Krita. His illustrations have won a large number of titles such as "CGallery Trophy" in 2009, "CGsociety Award", "3DWorld Award" in 2011 and "Ballistic publishing Excellence Award" in 2013. He also made the art direction for the Open Movies "Sintel" produced by the Blender Foundation and was concept-artist for "Tears of Steel", "Cosmos Landromat" and "Spring". In 2014, he started his own Free/Libre and Open-Source project: Pepper&carrot. A webcomic about a witch and her cat in a fantasy world. Over the years the project has now over 1000 patrons, 70 contributors, a translation in 57 language and 3,6 Million readers per year.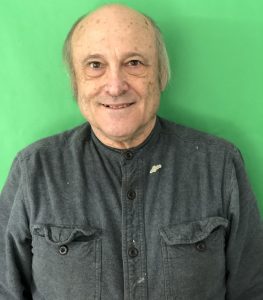 Chris Crawford
Chris earned a Master of Science degree in Physics, then abandoned physics, building a home-brew computer in 1977, then designing and publishing a few games before joining Atari as a game designer. He ended up running Games Research, but was laid off in the general collapse of Atari in 1984. He moved to the Macintosh, where he designed Balance of Power and a bunch of other games. In 1992 Chris abandoned game design for interactive storytelling, which is like video games with actual characters that you can have dramatically significant interactions with. He has built a great deal of impressive technology for interactive storytelling, but has never gotten it working — yet.
Casey Fiesler
Casey is faculty in information science at University of Colorado Boulder, where she directs the Internet Rules Lab and spends her time teaching and researching about online communities, internet law, technology ethics, creative speculation in technology design, and  fandom, occasionally all  at the  same time.  She is on the legal committee for the Organization for Transformative Works and has a PhD in Human-Centered Computing from Georgia Tech and a JD from Vanderbilt Law School.
Leonard Balsera
Leonard is best known for his design and development work on Evil Hat Productions' various Fate system games, such as the award-winning Dresden Files RPG, but has worked across the breadth of the industry, with credits from Pelgrane Press, Fantasy Flight Games, Green Ronin, Margaret Weis Productions, Onyx Path Publishing, Steve Jackson Games, John Wick Presents, and many others. When he isn't eating, breathing, and sleeping hobby games, he spoils his cats rotten, reads voraciously, performs on stage occasionally, and plays a lot of video games. He lives at the intersection of memory and dream, but his physical body resides in Austin, Texas.
Larry Nemecek
Author of the classic Star Trek: Next Generation Companion and Stellar Cartography maps/book set, Larry "Dr. Trek" Nemecek now takes global Trek fans backstage every month under his Trekland banner with the pioneering PORTAL 47 deep-dive live/online insider package, plus weekly visits as host of THE TREK FILES from Roddenberry Podcasts.
He also hosts "Life Support LIVE" each Saturday, a fun merger of Star Trek and mental health designed to Boldly GO Through Uncertain Times on twitch and YouTube with co-host Dr. Ali Mattu (HBO, Netflix).
Larry, who was award-winning Star Trek Continues' original Dr. McCoy and its Creative Consultant for all 11 episodes, also hosts his Trekland Tuesdays LIVE each week and—outside of pandemics— leads customized day tours of LA Trek film sites for fans as TREKLAND TREKS. His documentary The Con of Wrath is in post-production, the Trekland: On Speaker remastered archival interview CDs is into five volumes, his Trek guest chats on YouTube pile up, and his column "A Fistful of Data" just hit 22 years in Star Trek Magazine.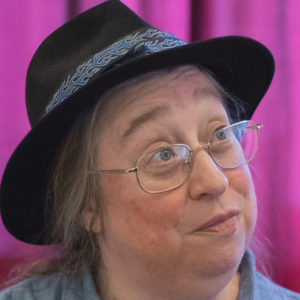 Jo Walton
Jo Walton is the author of fifteen SF and fantasy novels including Or What You Will in July 2020. She has also published two non-fiction collections about the history of SF, a short story collection, and three poetry collections. She won the World Fantasy Award in 2004 with Tooth and Claw, and the Hugo and Nebula in 2012 for Among Others. Her most recent novel is Lent. She comes from Wales, but lives in Montreal where the food and books are much better.
She plans to live to be ninety-nine and write a book every year.
Guests of Honor Emeriti: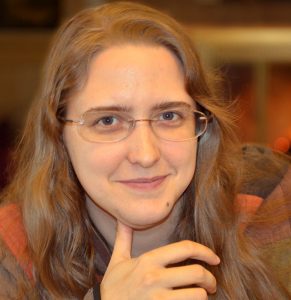 Ada Palmer
Ada Palmer's first science fiction novels Too Like the Lightning, Seven Surrenders, and The Will to Battle (volumes 1-3 of Terra Ignota, from Tor Books) explore how humanity's cultural and historical legacies might evolve in a future of borderless nations and globally commixing populations. She teaches in the University of Chicago History Department, studying the Renaissance, Enlightenment, classical reception, the history of books, publication and reading, censorship and information control, and the history of philosophy, heresy, science, and atheism. She is the author of Reading Lucretius in the Renaissance (Harvard University Press). She often researches in Italy, usually in Florence or at the Vatican. She composes fantasy, SF and mythology-themed music, including the Viking mythology musical stage play Sundown: Whispers of Ragnarok (available on CD and DVD), and often performs at conventions with her vocal group Sassafrass. She also researches anime/manga, especially Osamu Tezuka, early post-WWII manga and gender in manga, and has worked as a consultant for many anime and manga publishers. She blogs for Tor.com, and writes the philosophy & travel blog ExUrbe.com.
Michael W Lucas
Penguicon alumni GoH Michael W Lucas has written far too many books, from tabletop role playing games to high-tech crime thrillers, managing Unix to the proper use of encryption. Neither extensive medication nor the shock collar have helped. When the Programming Committee discovered that he had written a MIB to track his titles, we informed him that he could either graciously return of his own free will or we'd dispatch a team with nets and tranquilizer darts. Narazu declared Lucas' Cash Flow For Creators one of the best books of 2020. Other notable nonfiction includes the Networknomicon on the cosmic horror elements of SNMP, Ed Mastery, and Absolute FreeBSD. His novels like $ git commit murder, Butterfly Stomp Waltz, and Drinking Heavy Water are are fair game for Penguicon, but the Code of Conduct Committee would vastly prefer if attendees refrained from discussing his satirical Linux erotica.
Lucas is from Michigan, happily married, practices martial arts, and fills his social media with bilious rants and pet rat photos. He intends to keep writing as long as the mortgage banker demands payment. See more at https://mwl.io.
Featured Guests: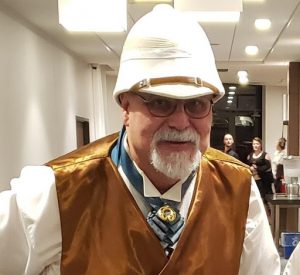 Donald Mark Haynes: I'm a renaissance man trapped in a specialist's body.  I started out as a biologist and that's why I became an IT guy.  I love science but it doesn't pay the bills.  I've been an IT professional for many years.  I used to be a software developer with an elegant language for a more civilized age.  I became a Quality Assurance Analyst because it's better to give than receive.  I have been a process improvement specialist because it's easier to negotiate with a terrorist than a Methodologist.  But lately, I've been working as a Scrum Master and Agile Coach.  Agile is a philosophy, not a methodology.  I have drunk the Kool-Aid and it tastes good and of course, that's where the money is.  In my current reincarnation, I am focusing on speaking at conferences and writing about agile & IT issues.  In interviews, people often ask how long you've been agile?  My answer is always.  I just didn't know what it was called before. https://dmarkhaynesconsulting.godaddysites.com/ https://www.linkedin.com/in/donald-mark-haynes-csm-745a609/.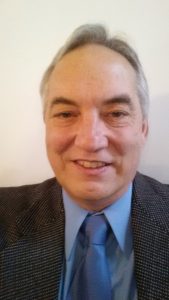 Gibson Nichols (gib) has been a computer enthusiast for over 40 years while supporting large critical systems at very large companies. He stated learning about computers at U of M – Dearborn. Then, for a dozen years he worked at the Kmart headquarters. If you have ever used an insurance card at a Kmart pharmacy your data may have been processed by software Gib programmed. He has worked at Ford for over 30 years. He currently runs the Innovation Lab at Ford where he supports projects in AI, robots and a variety of emerging technologies. He is a member of MUG.org and a past president of MDLUG.org. Raspberry PI is his favorite toy. He is a Penguicon regular having suggested several birds of a feather each of the past many years. You may notice a sense of humor on occasion. His next project is to sell non-fungible tokens of his soul with bitcoin.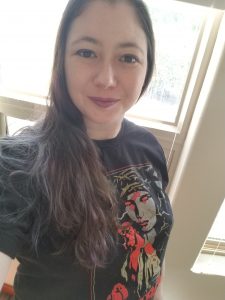 Kimberly Nugent  began her career editing speculative fiction and poetry with Far Horizons Magazine as her first position while completing her editing certificate from UC Berkeley. After experience editing shorts and anthologies, she then moved into her lifelong passion, editing games, specifically TTRPGs. After working with wonderful game production teams, she recently took a position at Red Scar Publishing editing, developing, line managing. Her current editing titles include: over ten Infinity: The RPG (Modiphius) books, the Judge Dredd (EN Publishing) RPG books, The Day the Law Died and Rogue Trooper, Kings of War, and Devil's Run (Red Scar Publishing). A recent title she has worked on with Red Scar is Hellboy: The RPG. On this title, she was the project manager, chief editor, and worked on the design. When she isn't editing or chasing kids Kimberly spends her time writing speculative poetry. She has had many poems published in Star*Line, Scifaikuest, and multiple poems nominated for Dwarf Stars. In her free time (HA!), Kimberly enjoys all things gaming, scifi, and heavy metal. She can't wait to hit the cons and concerts again sometime soon. Two years ago, Kimberly relocated from California to the Albuquerque area in New Mexico, home of all things weird, with her family and two cats, who are lovable jerks. You can find her on Twitter at @BlueTeaEditing. https://red-scar.com/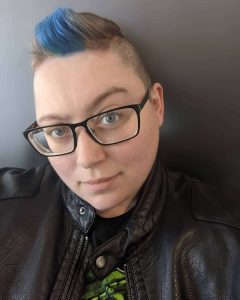 Beau Sheldon runs Thoughty blog and is part of Daedalum AP and Assembludo. They are a genderfluid nonbinary-masculime queer designer, photographer, and writer, as well as avid movie nerd.They're the creator of the Script Change RPG Toolbox and designer of Turn; the Let Me Take a Selfie and Of the Woods: Lonely Games of Imagination game collections; and worked on Firefly RPG: Smuggler's Guide as well as many other projects. Beau's professional Twitter is @ThoughtyGames and they can be found at briebeau.com and on YouTube for Leading with Class, teaching leadership through games.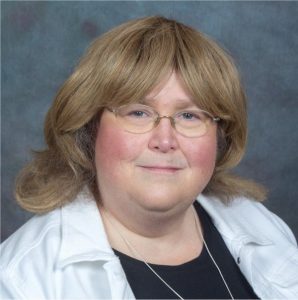 Wendy Van Camp is an author, poet, and illustrator. Her writing blog No Wasted Ink  features essays about the craft of writing, poetry, and author interviews. Wendy's short stories and poems have appeared in science fiction magazines such as "Quantum Visions", "Scifaikuest", and "Far Horizons". She is the poet and illustrator of  "The Planets: a scifaiku poetry collection" which was nominated for a 2020 Elgin Award and the editor of the speculative poetry anthology "Eccentric Orbits 2".  Her books can be found on Amazon and her illustrated poetry prints on ETSY.  You can also hear her as a semi-regular panelist on Sci-Fi Roundtable Podcast.
About GoHs
Check out Guests of Honor from every year of Penguicon here.
Guests of Honor are provided travel and lodging expenses, and have a lifetime membership to attend Penguicon.
Featured Guests are presenters of note that we would like to highlight this year, and are provided a free membership for 2021.
Have an idea for someone you'd like to see at Penguicon? Let us know by filling out this form. We want GoHs who are advancing their field, whose work is well-known– or should be! And we want GoHs who will understand that we can't pay speaking fees.