Penguicon Family,
We are sure you are eager to hear what will happen with Penguicon in 2021. As you may remember, last year we agreed with our hotel to move the contract from 2020 to 2021. Since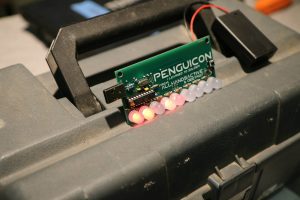 then, our Convention Committee has been working on multiple scenarios simultaneously including an in-person event, a hybrid event, and a fully virtual event. We appreciate the very hard work they have put in to ensure that regardless of what may happen, Penguicon will thrive in 2021.
All available evidence points to this April being a time in which COVID restrictions will still be in place due to vaccinations still being heavily underway, meaning events our size may still not be legal then. If they are legal, they just won't be the same. After all, would you be interested in cramming into a room party? What about a standing-room-only event in the Big Top room? Opening Ceremonies?
While we could (and have) planned for how to make a socially distant Penguicon, we believe that it just won't be possible to do an in-person Penguicon justice this year. Further, we have a responsibility to every one of you to not create a dangerous environment.
We spoke with our hotel, the Southfield Westin, and they agreed to push our event contract another year, into 2022. We cannot thank them enough for realizing, early in the year, that this commitment just cannot happen safely, and helping us make the most of that time.
It was challenging for an all-volunteer organization to plan for three different kinds of events, so we are pleased that everyone can now focus fully on making a kick-ass Virtual Penguicon happen this year. We were excited to see how popular our last-minute event was last year, with good attendance, and can't wait to see how it will turn out with more advance planning time.
More details will come out via Ska and the ConCom as soon as they have them.
If you want to know how you can help, please email conchair21@penguicon.org or board@penguicon.org.
We love our con family, and we miss seeing your faces in person so much, but this decision will help ensure we will get to see them again in future years.
Sincerely,
Penguicon Board of Directors
(Penguicorp)